Exact and easy soldering rework
with advanced technical know-how.
---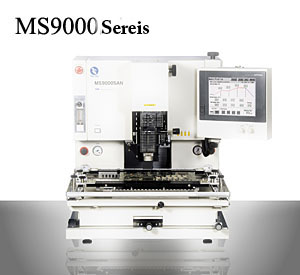 Abstract
Rework Station is the system that it is for soldering and de-soldering to the unit parts on the board. The unit parts will be very small area on the board normally,Therefore, the board will be heated in a only small area. In this case, the board may warp with heat and adjoining parts may receive a damage with heat.
The Rework Station must be managed of reworking with safety and exactly under that situation. Furthermore, the system operation should be easy and safety to the operator. Our rework Station will be best matching to the needs.
History of the Rework Station.
We ware already have a rework system in 1980 to the board for through hole. And the rework system of model HG for SMD was developed in 1990. The rework system for BGA was developed 1998, It is model MS series. Furthermore,we developed of the rework system for 0402(EIA 01005), 0402 of the chip size component in 2005. We always lead a market needs and offer the newest rework system
Feature of the rework system MS series.
The rework system have to heat a very narrow area on the board. MS series rework system can be it exactly and easy. It is with very advanced technical know-how. Also as for the newest high density board, the parts of a fine lead pitch and chip size parts, it is possible for reworking correctly. Furthermore, MS series can complete all the processes of reworking, if it uses with the Jig. They are heating, removal, cleaning, printing. positioning, mounting, re-balling etc. and it is even inspection.
M.S.Engineering Co.,Ltd.
1-38-15, Okusawa, Setagaya-Ku, Tokyo, Japan. 〒158-0083. Phone: +81-3-4283-3951 / Fax: +81-3-3728-5232
Mail: msc@mseng.co.jp

Copyright(C)2007 M.S.Engineering Co.,Ltd. All rights Reserved.