Home(Products)
> MS15N N2 Gas Generatorr

N2 Gas Generator
---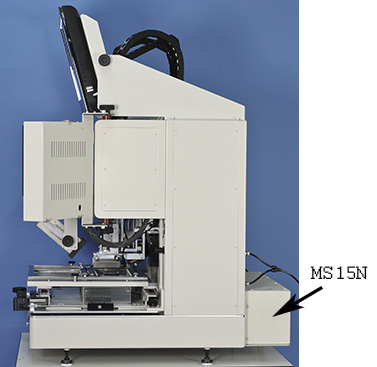 MS9000SAN Rework System + MS15N N2 Gas Generator

The Photograph is attaching of MS15N N2 Gas Generator for MS9000SAN Rework System
MS15N is N2 gas generator only for rework system. It can be used with almost all the hot air heating type rework system. And it can connect also for current use rework system.
It is very little cost and, moreover, easily get of the heating environment by N2 gas
Fuatur
N2 Gas is simply generated from the Air.

Power supply is unnecessary.

Silent and there is also no generating of dust.

Compact size. (700L x 120D x 110Hmm)

Low Cost

Connection also with the existing rework M/C is possible

Connection is only inserted in air piping.
Abstract
MS15N is applies the oxygen separation function of Polymide resin and increase the density of nitroge. Therefore, also in operation, it is silent and a power supply is unnecessary.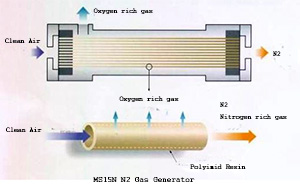 Specification:
| | |
| --- | --- |
| Item | Description |
| Air Supply | 0.5~0.8Mpa 10~40L/min |
| Air Connection | IN / OUT 6Фmm Air Tube |
| N2 Gas | 95% /0.7Mpa 20L/min |
| Demention | 700W x 120D x 110Hmm 7.0Kg appox. |
M.S.Engineering Co.,Ltd.
1-38-15, Okusawa, Setagaya-Ku, Tokyo, 158-0083 Japan. Phone: +81-3-4283-3951 Fax: +81-3-3728-5232
Copyright(C)2007 M.S.Engineering Co.,Ltd. All rights Reserved.