SMD Rework Solution
We are specialist for SMD Rework such as 0402 chip, CSP,BGA and QFP etc.

TUN Solder Transcriber:
Rework Station:

Accessories:

Related Systems:
Home(Products)
> TUN Solder Transcriber

TUN Solder Transcriber
---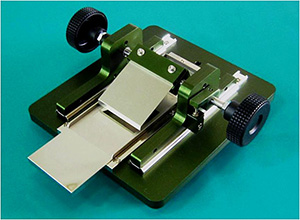 TUN

Fuature
This is a universal printing Tool to almost all kinds of BGA.
Four kinds of printing thickness of solder are prepared.
A Metal mask is unnecessary.
Abstract
TUN type of Solder Transcriber consist of TUN-1 and TUN-2.
TUN-1 is a main frame with squeegee, and TUN-2 is a solder transcribe tool.
TUN-1 Main Frame
A supply of cream solder

Squeegee

Set-up of the TUN-2 Transcribe Tool.

Remarks: The cream solder must be for transcribe.

(it is a viscosity has less it than a stencil type.)





BGA Supply

Transcribe

Completed of solder printing.



TUN-2 Transcribe Tool.
TUN-2 has a ditch of four kinds of depth.

Choose the ditch suitable for the coating thickness of solder. And supplying of the cream solder.

Then, Cream solder is correctly filled up with a squeegee into a ditch.

After Squeegeeing, TUN-2 setup at the rework system,Then transcribe of the solder to the BGA.




TUN-1 with TUN-2

TUN-1: Squeegee Station

TUN-2: Transcribe Tool.
Specification:
| | |
| --- | --- |
| Item | Description |
| Compornent Size | Tip size~30 x 30mm |
| Printing Thickness A/B/C/D | 100/120/150/200μmm |
| TUN-1 Size | 200W x 180D x 85Hmm 2.7Kg appox. |
| TUN-2 Size | 150L x 60W x 10t mm 0.6Kg approx. |
M.S.Engineering Co.,Ltd.
1-38-15, Okusawa, Setagaya-Ku, Tokyo, 158-0083 Japan. Phone: +81-3-4283-3951 Fax: +81-3-3728-5232
Copyright(C)2007 M.S.Engineering Co.,Ltd. All rights Reserved.