SMD Rework Solution
We are specialist for SMD Rework such as 0402 chip, CSP,BGA and QFP etc.

PR1 Solder Ball Checker:
Rework Station:

Accessories:

Related Systems:
Home(Products) > PR1 Pri-ball Details

PR1 BGA Solder Ball Checker
---
The solder ball of mounted BGA is checking easily by pocket type checker.
The checker has strap, thus, always near by you.
PR1 have a LED light with a battery.
It is also made check for lead of a QFP and Tip Parts etc.
It is very easy use.
Outline of Operation
PR1 is a pocket type handy checker for solder ball of BGA. It can check the image which is the prism of the top and was changed 90 degrees. And the image is expanded with the lens, it is about x7 magnifications. It is an attached strap and it is always together with you.


The materials of the body are conductive for an anti-static electricity.


PR1 can also be check the lead of QFP and the tip parts, it will be the good friend who helps you.





PR1
Parts Set


PR1

Consist of...

Sample Image
Lighting
PR1 has a lighting system, it is by white-LED. It is illuminate to the target, thus, you can check of the image with cleared. The LED operate by the battery.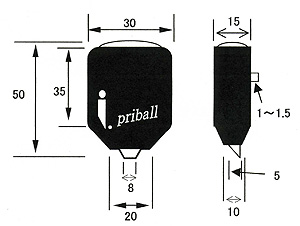 The sensor prism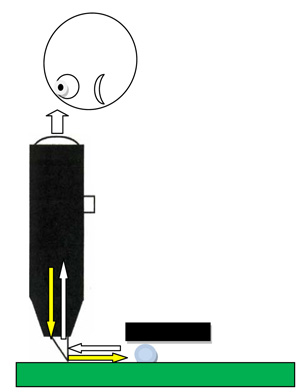 The sensor prism is by special glass, and the tip of the prism is thin, it should be operation with carefully.
The sensor prism and the battery are exchangeable.
| | |
| --- | --- |
| LED Lighting | Check Image |
Specifications
| | |
| --- | --- |
| Item | Specification |
| Image magnification | about x7 |
| Real View | 10mm |
| Prism | 8mm wide by special-glass |
| LED Lighting | LED by CR2016 battery |
| Weight | approx. 25g |
| Size | 50H x 30W x 15t mm |
| Accessory | Strap |
| Spare Parts | RP-1S Sensor Prism / CR2016 Battery |
The specification are subject to change without notice.
M.S.Engineering Co.,Ltd.
1-38-15, Okusawa, Setagaya-Ku, Tokyo, 158-0083 Japan. Phone: +81-3-4283-3951 Fax: +81-3-3728-5232
Copyright(C)2007 M.S.Engineering Co.,Ltd. All rights Reserved.