Home(Products)
> SND-N Printer Tool Details
SND-N Solder Printing Tool & MS9000SE-CPT Print Tool
---
SND-N Printing jig is handy manual solder printing jig for BGA(CSP) .
The jig can be using for all most all size of the BGA and CSP.
SND-N Printing Tool has a metal mask and 2 kinds of Transcriber for 150 and 250 micron thickness.
The squeegee of attached can be using all most all BGA and CSP.
The BGA after printing can be supply to the nozzle of the machine directly.
Outline
SND-N is a manual printing tool for BGA and CSP. It must be made of the metal mask, to the BGA. However,

SND-N can be using for any kinds of the metal-mask.




After dropping BGA into the hole of the metal mask, it fixes lightly with a package holder. and sloder paste is manually printed with a squeegee.

If solder paste is inserted in the slot of SND-N for transcription and set up it to MS9000SAN-III. even transcription of solder paste is possible.


SND-N Printing Tool


Solder Transcription
BGA Supply
The BGA after printing is supply to the nozzle of the rework machine. The center bit of the nozzle will be pick the BGA up from SND-N directly.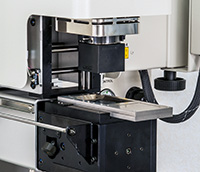 In SND-N, any printing has components at the center of the nozzle.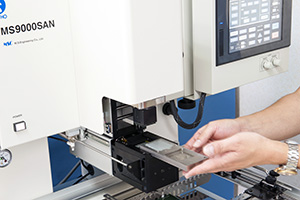 As for it, transcription printing, the nozzle is already equipped with BGA.
Specifications
| | |
| --- | --- |
| Item | Specification |
| SND-N Tool Size | 80 x 170 x 10tmm |
| Metal-Mask | 50 x 80mm |
| Thickness of the mask | 0.1 -- 0.15mm t |
| Solder Transription Slot | 150 and 200 micron of depth |
| Squeegee | for Max 40mm BGA x 1 |
The specification are subject to change without notice.
Specifications for Metal Mask
The metal mask for SND-N is required for every kind of BGA. Therefore, please manufacturing on the drawing of a metal mask.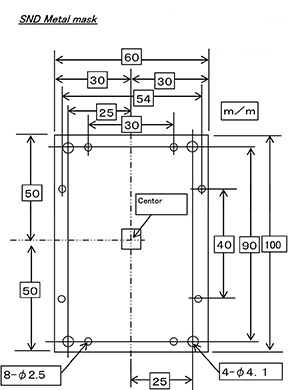 Outline of MS9000SE-CPT Print Tool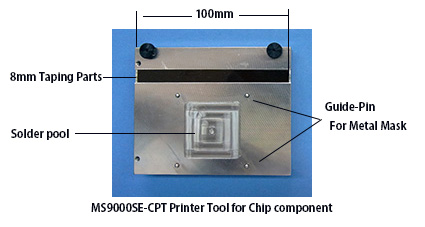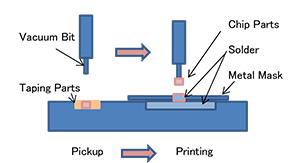 The Vacuum bit (Pickup Pin) is prepared for every size of a chip component.It is for pickup of a chip from the taping parts reliably. Taping parts shall be 100 mm in length, and are set. And a tape is fixed to an adhesion slot. Probably, they should be exchanged timely, though an adhesion slot has long durability.
(Adhesive tape is heat-resistant polyimide films currently used also at the newest reflow system. )
There is a metal mask for every chip size. If a metal mask is put according to a guide pin, a suitable amount of solder paste can be supplied.
If even a positioning is completed by the function of the vision of equipment, after that, a pickup and printing are automatic respectively.
M.S.Engineering Co.,Ltd.
1-38-15, Okusawa, Setagaya-Ku, Tokyo, 158-0083 Japan. Phone: +81-3-4283-3951 Fax: +81-3-3728-5232
Copyright(C)2007 M.S.Engineering Co.,Ltd. All rights Reserved.