Home(Products)
> ND5100 Details

MR2533A Table Top Type Reflow System
---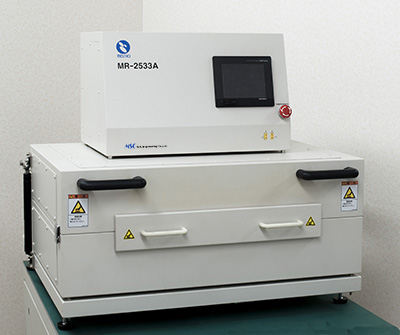 MR2533A is the table top type reflow which can get the very stable room temperature with quickly. Temperature control system ITTS(Intelligence Thermal Trace System) is used with the rework system of our main products. ITTS made rework system highly efficient, and moreover made it easy-to-use. It was completely applied also for reflow oven.

FEATURE
Easy create of the optima temperature profile by ITTS.
Easy operation by touch-panel controller.
Installation is possible at a small place by table top type.
Ready time is very shortly with highly efficient heater.
The stability of room temperature is less than 5 degrees.
OPERATION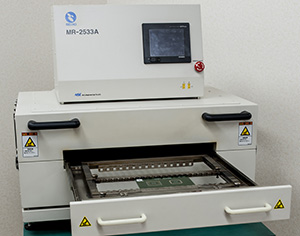 MR2533A has universal type board holder, and it fixes a board by spring. Furthermore, the board holder can be detached and attached from the drawer of the machine. All of creation of heating conditions, a setup, or operation are from the touch panel. Therefore, operation is very easy and can be correctly. NR2533A has an input for N2 gas. Therefore, it is possible to use by N2gas. The body is the structure where it is divided into two up and down, it is for easy maintenance.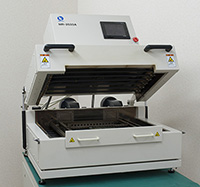 For easy maintenance
Controller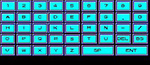 First Screen ....../.........Key board on the screen
Control of MR2533A is on the monitor panel except of the switch for emergency stop and power source.. and the monitor is a touch panel. All of a setup of data and the operation of the machine are from the touch panel. The key board will be appears on the screen when it is required.
Exhaust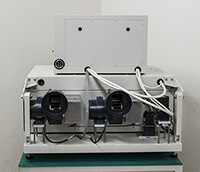 Back image
MR2533A has 2 of Exhaust, they will be cooling in the oven quickly. Furthermore, There is a input for supplying of N2 gas. And also output for testing of N2 gas. Each can open and close with a lever.
Board Holder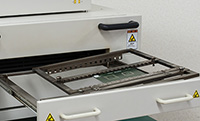 There is a board holder in the machine, and the holder can be desorb easily. The holder can hold a board by adjustable one. Furthermore, the under support pin system is attached. Since the holder is separable, a position of a support pin is easy and, moreover, exact.
Dimension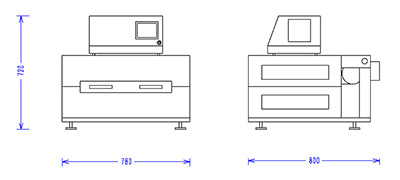 Specifications
| | |
| --- | --- |
| Item | Specification |
| Board Size | 50x50mm min.~ 250 x 330mm max. |
| Board Thickness & Weight | 0.5mm min.~ 3.5mm max. 3.0Kg max. |
| Board Installation | Universual Board Holder |
| Top & Bottom of the board Space | 20mm max. (each) |
| Heating Method | Extreme Infared Radiation |
| Cooling Methed | 125Фmm Two Exhaust |
| Uppere Heater | IR 1800VA (300VA x 6) |
| Lower Heater | IR 1800VA (300VA x 6) |
| Temperature Controller | Automatic Thermal Profile Control System (ITTS) |
| Operation | By Touch Panel |
| Profile Data File | 80 files (40 files for ITTS / 40 files for Manual) |
| Measuring Temp | 2CH for ITTS control |
| Temp Accuracy | Less than ±5℃ |
| Power Supply | 200~240V 4.1KVA 2P |
| Outer Dimension | 780W x 750D x 720Hmm 90Kg approx. |
| N2 gas (If used) | 0.3Mpa or more |
The specification are subject to change without notice.
M.S.Engineering Co.,Ltd.
1-38-15, Okusawa, Setagaya-Ku, Tokyo, 158-0083 Japan. Phone: +81-3-4283-3951 Fax: +81-3-3728-5232
Copyright(C)2007 M.S.Engineering Co.,Ltd. All rights Reserved.