SMD Rework Solution
We are specialist for SMD Rework such as 0402 chip, CSP,BGA and QFP etc.

MS7000:
Rework Station:

Accessories:

Related Systems:
Home(Products)
> MS7000 Overview
MS7000 Nano-Rework Station
---
Overview
MS7000 is rework system for the chip partrs from 0402(EIA 01005), furthermore it is possible for rework of BGA and CSP. The dispenser for chip parts is equipped as standard, and also the cleaner of solder is prepared as the option.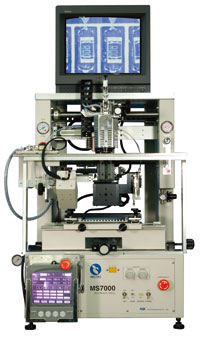 Tweezers head of original development can be rework of 0402 chip parts exactly.
Furthermore, if the specially tweezers are used, it will be able to respond also 0402.
Reworking of CSP is also possible if it exchanges for the CSP nozzle head.
Exactly solder supplying is possible by the special dispenser which our original.
Solder cleaning for 0402 is possible by the optional unit. BGA, CSP also possible.
High magnification vision system provided of high accuracy positioning.
High magnification external CCD camera can check of cleaning and dispensing situation.
M.S.Engineering Co.,Ltd.
1-38-15, Okusawa, Setagaya-Ku, Tokyo, 158-0083 Japan. Phone: +81-3-4283-3951 Fax: +81-3-3728-5232
Copyright(C)2007 M.S.Engineering Co.,Ltd. All rights Reserved.