The image on the right is the BGA 1.27mm lead pitch, it has a soldering bridge. and also the image sample of the BGA 1.27mm pitch, it can be check of some void.
X Ray generator can be adjust of the voltage of 90Kv maximum. The penetration power will become strong if the voltage is high. And the current can be adjust of 0.3 mA maximum. the image will become bright if the current is large.


Image processing Software:

MSX600 has 2 two kinds of Image control software.
In MSX600V,it has the same GxVision as MSX1200N type micro-focas X ray inspection system.
Therefore, the image analysis of full specifications is possible for it.
In MSX600E, it has same IB-Soft as MSX500 type economical X ray inspection syste,.
Therefore, It will be easy to operation and it will be optimal to the inspection in a production site.
MSX600 siries has newest X ray generator, it is closed type X ray tube with air cooling system. and also it is mini-focus system. Ttherefore, it has been compatible in reasonable performance and cost.

The image on the monitor of MSX600 obtained about 25 x from the original. Therefore, when an image over from the screen, it checks by moving of the XY table. The XY table is controlled by the switch on the body, however, remote control is also possible as an option.
And if the image needed is obtained, the image data should be saved in the file, then the data can be adjust of the quality of the image by the function of the system.
In model MSX600V, it is possible to expand by further 2 and 4 or 8 times. It is changed 25 or 50,100,200 times.
Sample Image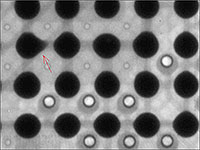 67KV 0.2mA X50 image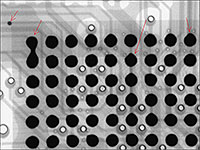 67KV 0.2mA X25 image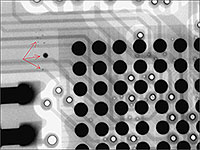 67KV 0.2mA X25 image