Home(Products)
> MS9000SE Details
MS9000SE Multi Ways Rework Station DEMO-MOVIE
---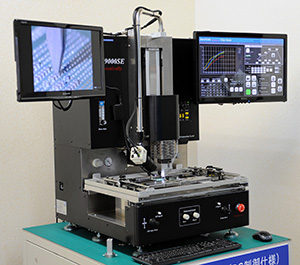 MS9000SE
Overview
MS9000SE is the all-round rework system which almost all SMD can be reworked. And the original ITTS auto profiler system is operates of the system easily and exactly. Many kinds, such as a connector, and a socket, a shield cover, of SMD can be reworked as well as BGA and CSP, and also QFP of a fine pitch.
Furthermore, if the adapter of a separate item is used, reworking of 0402 (01005) etc. is also available.
● The hot air type top heater is changed to the IR.
    (By a user, units are only exchanged. )
● Not only BGA but also a chip(01005) can be reworked.
   (It is only exchange of a Head)
● Auto-Positioning is possible with original-CDPS.
   (Coordinates Designation Positioning System)
● The solder of a land can be cleaned.
   (Double Cyclone Suction System)
● Fully Auto Reworking is Possible.
   (Automatic removal, auto-pickup, auto- printing, and auto-mounting)
● The tool for solder printing is attached.
   (Not only BGA but also a chip is available )

CONCEPT
Easy Changeable of Top-Heating System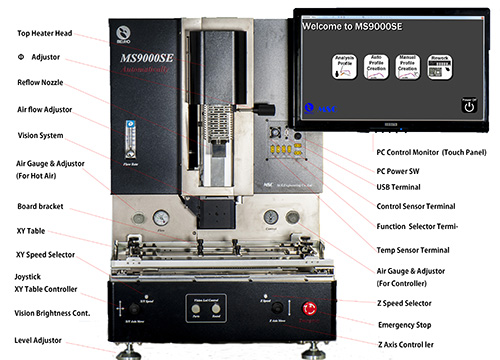 With the reworking equipment of SMD, it heats from the top and under, of the board. Those heating methods and top-and-bottom heating balance are very important for excellent reworking.
MS9000SE is years of experience and the excellent technology, and has established the exquisite heating automatic control system ITTS. (Intelligence Thermal Trace System)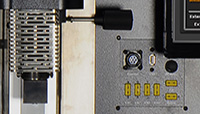 ---------------Hot Air Heater ------------------------Direct Heater-----------------IR Heater----
The standard configuration of MS9000SE is a hot air heating system. and it can be suitable for most stable and reliable reworking to almost all SMD.
However, in the market, one new parts after another is developed, and it is miniaturized.
MS9000SE is equipment which predicts the situation and with which any SMD makes reworking possible correctly.
If a hot air nozzle is exchanged for IR heater unit, a top heater will change to IR heating type. And wearing of IR unit will change equipment into IR heating mode automatically. If exchanged of heater unit, the control function is changed automatically. However, an operation screen is in common. Therefore, operation is easy. The top heater of a normal machine is an Hot Air System.
The direct heating tweezers is the newest system that heat a chip component quickly. It is removal and even soldering of a chip is possible. (It can cleaning of the land, the pickup of a chip, and even printing of solder is included)

Processe of Removing
Removing of the General Package: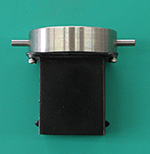 -Reflow Nozzle ----------------POP Nozzle -------------Under-Fill Nozzle
-0000Z00M----------------------0000Z00POP--------------MS9000SE-UFN
A reflow nozzle is attached to the standard machine of MS9000SE.
The reflow nozzle for reworks of SMD, such as almost all BGA And a reflow nozzle is used put the size of If the size of the nozzle is changed, it can rework to 50x50-mm from 2.0 x 2.0mm of SMD.
Of course, it can respond also to a BGA socket and other variant components.
The size of components goes into 0000 of a model number. And 00 is an inside diameter of the nozzle to add. For example, in the case of 1515Z10M, the 15.0 x 15.0mm nozzle for CSP is diameter of the nozzle in the case is 16.0 x 16.0mm.
Removing of the POP Package: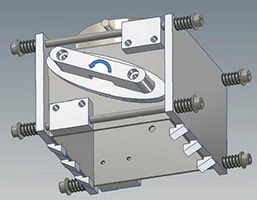 In a POP nozzle, it removes sandwiching [ a package ] by a claw. Processes other than removal are the same as the general BGA.
Removing of the Under-Fill Package: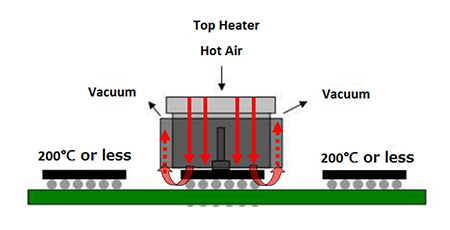 MS9000SE-UFN is a nozzle which has a slit which exhausts hot-air in the outer wall of the nozzle.
If away (about 1.0mm) with the next components, the difference in temperature will be about 40 degrees.
The size of a package is possible 5.0 x 5.0 to 20 x 20mm. It should arrange the POP nozzle for every size of the package. The example of the process of work is presented.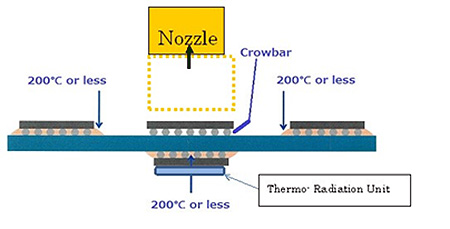 When there is BGA also in the reverse side of a board, if MS9000SE-TRM (Thermo radiation unitl) is set, the difference of about 40 degrees will be taken.
Removing of the Chip Size Components: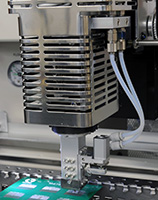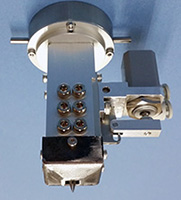 MS9000SE-CHU Tweezers Nozzle
MS9000SE-CHU tweezers nozzle is suitable for the chip to 01005-0805. The space of tweezers is adjusted and the chip of each size is made to match.
The tool which picks up 8-mm taping parts, and the tool for transfer printing are also included in MS9000SE-CHU. Furthermore, the palette for picking up from an untidy chip is also included.
Processe of Solder Cleaning
Solder Cleaning for SMD, such as BGA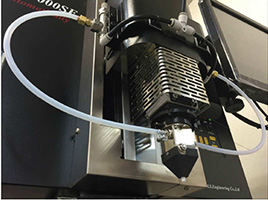 MS9000SE-CLN Solder Cleaning Nozzle
The clearance of the board and the nozzle is automatically kept constant. It is controlled so that vacuum pressure becomes constant inside the nozzle. And, by the double-cyclone suction system, solder is sucked up powerfully.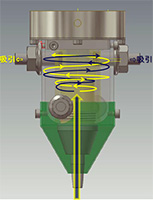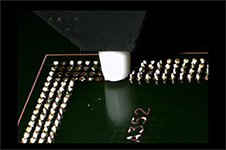 MS9000SE-CLN Solder Cleaning Nozzle System: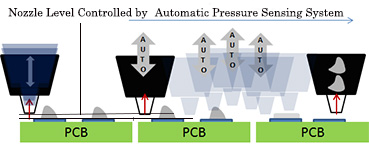 Processe of Solder Printing
Solder Printer for SMD, such as BGA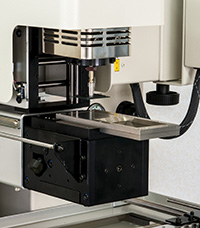 Model SND-N Solder Printing Tool
The SND-N type printing tool is equipped standardly. Both a transfer type and a squeegee type are available for printing. And also, Printing and re-balling are possible by RBC-1. Furthermore, there is also a highly accurate PLCP type tool for printing in CSP of a fine pitch.
Solder Printer for Chip Component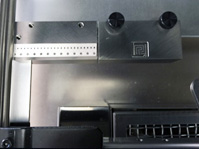 8mm Taping Parts & Pool of solder MS9000SE-CPTP pick-up Pin.
The tool for a pickup of the chip of an 8-mm tape is attached to MS9000SE-CHU.
The vacuum pin MS9000SE-CPTP for a pickup is also attached.
There is also a pool of solder paste in the tool. The pin MS9000SE-CPP for transfer printing is also attached.
Furthermore, even the palette which can pick up untidy parts is attached.

➽

➽

MS9000SE-CPP Solder Print Pin
MS9000SE-CPP is a special pin for printing solder.
Processe of Positioning
Vision System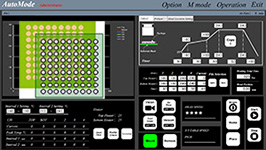 Optical Image Equality System
The positioning system is by optical image equality. It is the system that it displays the land image of the board and the pattern image of the part on the monitor at equal magnification. If those images fit, it will be the completion of positioning. The sample below images are 6x8mm CSP.





Parts image+board image+both of images.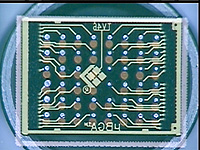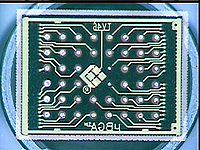 Both of image + adjust = Completion positioning.
The tool for calibration of the vision function is attached. If needed, calibration will be possible always.
Auto-Positioning System
An automatic positioning system gets an image from two cameras, and fix the position.
If a worker clicks the center section of four magnified images of ABCD on the monitor, it will calculate automatically and a position will be fixed correctly. it will calculate automatically and a position will be fixed correctly. AD are parts and BC are any portions by the side of the board. However, ABCD must have each in the same position. CDPS is Coordinate Designation Positioning System (Patent is under app.)
A and D are parts and B and C are boards. As for operation of CDPS, AB and CD will overlap a position automatically. A mechanism synchronizes and overlaps in the result.
Mount Process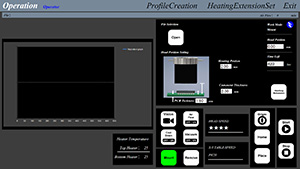 Z axis fully-auto operation screen.
Z axis of MS9000SE is by fully-auto motor controlled. It is automatic operation which depends on the pressure sensor developed by our self. Pickup and mounting of parts can be made automatic.
After mounting parts, a nozzle moves to the position of heating automatically
Soldering Process
ITTS Operation (A mode)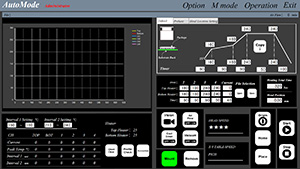 ITTS setup screen

MS9000SE is a rework machine with a auto-thermo trace system. The temperature sensor for ITTS is two managing locations. They are the surface of the reverse-side of the board, and other one is the surface of the package. The sensor must be able to detect of surface temperature, correctly.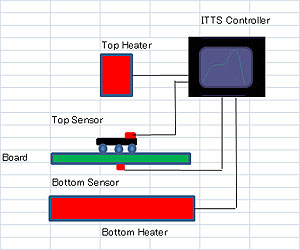 ITTS Diagram
The required temperature profile data is input to the four windows, MS9000SE is operated automatically as the setup temperature data. Four windows of the upper side are the temperature for solder, and the under side windows are for reverse-side temperature of the board. The time data will be automatically inputted by the machine. The all input data can be change always by manually. MS9000SE automatically hearts according to input data. The satisfied data should be save in the file holder in the machine. And then reworking by it.
MS9000SE has two kinds of control mode, It is A mode and M mode.
M Mode Operation
It is for manual setup of the heating data, It has 6 heating zones, and heating data input to each by manually.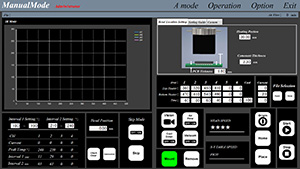 Manual Data creating screen
The control data into six windows and heat test it, The data is for top heater control, bottom heater control and time data. The SKIP function will be effective when for creating of the profile.
The SKIP function is a method to be able to advance to the next step by switch. In that case, each data of the windows should be input large, and watching progress of the heating. If it becomes the optimal temperature, it is made to move to the next window manually.
Creation of a Profile Data
MS9000SE has a function to monitor profile data. The red frames can change the indication of the measurement curve and the indication of analysis data.
This function is also in M mode and also by A mode. It can be trace for 6 colors, 2CH are for controller, and other 4CH are for measurement.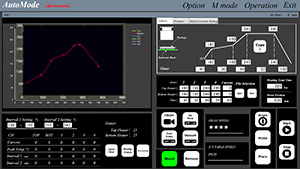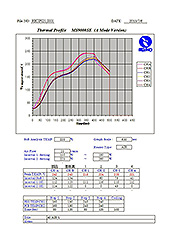 Screen of Creating a profile ----------Print-Out Data for A4 from the PC
The setup data can be saved at each mode. A mode data is maximum of 100 files, and M mode is maximum of 100 files.
The data is managed by the Windows Excel CSV files. The data can be send to the PC. The data can be analyse with the original software by the Excel on the PC. And the data can be print-out to A4 size paper by the PC with the original format.

Accessories
Exteral Camera System MS9000SE-ECS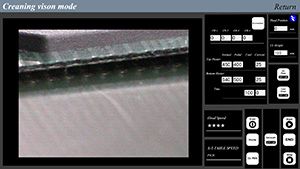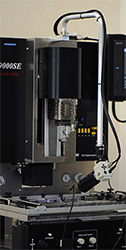 MSX9000SE-ESC External Camera
The image of a vision system and an external camera is changed automatically. And The image of a vision system is always priority.
The external camera system is indispensable to reworking of a chip component.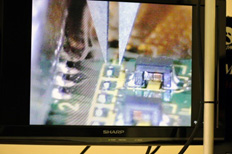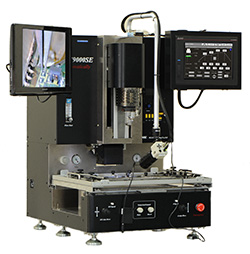 And the camera with high resolution is also arranged for fine components. It is MS9000SE-DECS.
In MS9000SE-DECS, capture of an movie or a still picture is also possible.
And because a camera moves on the rail, a picture is stabilized and can be checked.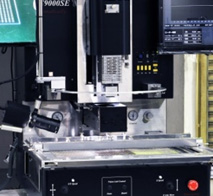 Camera Rail
Fully Auto-Rework System MS9000SE-FAU.
MS9000SE-FAU is additional accessories for full automatic rework system. Reworking process will become full automatic if it is added to a MS9000SE reworking machine. It is useful when reworking the same board in large quantities.
*The removed parts move to a trashcan automatically.
*The parts are picked up automatically.
*The next is transfer printing of solder.
*Furthermore, it positions and mounts.
*It heat and completion.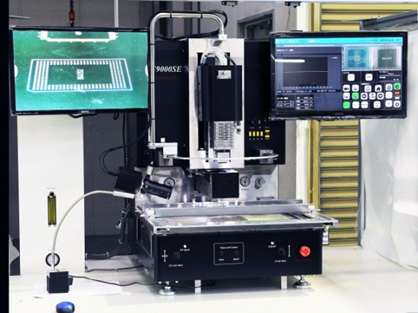 Standard Accessories:
Board support Tool.
Under board support pins system (2 rails and 4 pins)
Power Cable (3 cores) x 1 (approx. 5M)
Air Tube x 1 (6mmD approx. 3M)
Solder Printing Tool SND-N x 1 (Metal mask & Transcriber )
Nozzle x 2 (3535Z10 x 1 / 1515Z10 x 1)
Center Vacuum bit x 1 set (S/M/L)
Vison Calibration tool x 1





Nozzle---------------- Center bit------------ Calbratio tool
Optional Accsessories:
IR Heater Unit MS9000SE-IRH
External Camera System MS9000SE-ECS
High Resolution External Camera System MS9000SE-DECS
Solder Cleaning Nozzle MS9000SE-TLN
Re flow Nozzle: It chooses according to the size. 0000Z00.
Printing Tool for Chip size parts. MS9000SE-CPP
Pickup pin for Chip size parts. MS9000SE-CPTP
The metal mask to each tool. MS9000SE-MSK
Wide Bottom Heater: It must be equipped by us. MS9000SE-WBH
Sensor Kit: ST50K it consisted of 5 sensors with Lead wire.
Solder Printing Tool: Model SND-N (Transcriber type
Re-balling Tool RBL: Manual re-balling Jig.     
Under-Fill Nozzle MS9000SE-UFN.
Thermal Rdiation Sheet. MS9000SE-TRM     
BGA Scope: Visual check of the BGA.
Metal Mask Cleaner SND-MCL (AC100V 40VA 40KHz /45Фmm Cleaning Area.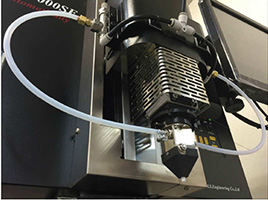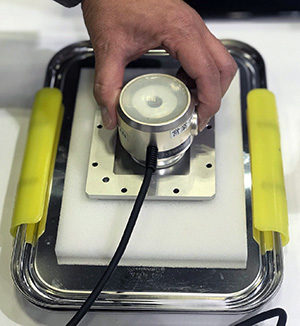 Tweezers Nozzle--------------IR Unit---------------Cleaner Unit---------SND-MCL mask cleaner
Specifications of MS9000SE
米 The mark requires additional accessories.(optional)

Item
Specification
Component size
2.0 x 2.0 ---50 x 50mm
米01005(0402)~0805(2012) *Tweezers Nozzle
Board Size
400 x 500mm max *with Standard Bottom Heater
米400 x 500mm mmax *with Wide Bottom Heater
Fine Adjust for Rotation
±5 degrees max by Z axis by manual
Fine Adjuster X and Y
≦±10μm by stepping motor control (10μ/pules)
Board Thickness
0.5~3.5mm /3Kg Max
Clearance of under the Board
45mm Max
Clearance of the board Top
25mm Max /米10mm Tweezers nozzle
Z Axis

≦±10μm /Stepping motor control 10μ/pulse

Joystick adjuster (Four-steps speed change)

≧40g pressure sensor
Under support for the board
by 4 pins on 2 railes

Heater Control System(PID)

A mode
ITTS Auto-Profile x 2
M mode
Manual 6 zones
Parts Pick Up
Auto pic-up by Vacuum Bit with loard free sensor.
Parts replace
Automatic with loard free sencer.
Controller
PC control by Windws 7. w/wireless key board & Touch-panel
Top heater
Hot Air
1080VA
IR
800VA: 10x10 -- 50x50mm by Shutter Plate
Bottom Heater
1.0KVA IR/ 米2.7KVA with wide bottom heater
Control Data Save
A-mode:35KB / M-mode 20KB /in 50GB
Control Data Memory
Excel CSV file in the CF Memory
Temperature Measuring
CA-K: 2(controller)+4CH(measuring)
Data Analyzer
Peak Temp x 6 / Time-Interval x 2 x 6
Data Graph

2+4CH max (2CH is only for controller)

Vision Monitor
22 inch LCD
Vision System
AF 70x max auto focus CCD Camera
Power
200--240V 2.5 KVA Single phase/ 4.5KVA w/wide Bottom-H
Dimension
570W x 870H x 850Dmm 90Kg approx.
Air
0.5~0.8Mpa Dry (N2 possible)
The specification are subject to change without notice.
M.S.Engineering Co.,Ltd.
1-38-15, Okusawa, Setagaya-Ku, Tokyo, 158-0083 Japan. Phone: +81-3-4283-3951 Fax: +81-3-3728-5232
Copyright(C)2007 M.S.Engineering Co.,Ltd. All rights Reserved.