Home(Products)
> MS7600 Overview
MS7600 Micro Divice Rework System
---
Overview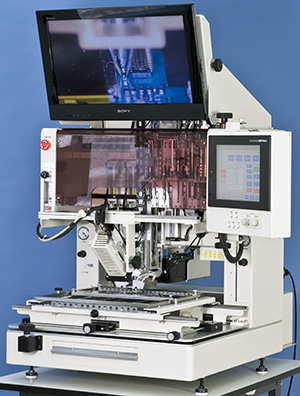 MS7600 is a reworking system for the micro devices such as from 0402 to CSP. And all the processes of reworking are included in the function of the system. That is, all of removal of parts, cleaning of solder, the printing of solder, positioning of parts, and soldering of parts are made.
Feature
Reworking can be completed by only this machine.

It can rework from 0402 to CSP.

The work of every process each is automatic.

The Thermal Profile is created automatically.

The generator of N2 gas is attached.

The situation of work can always monitor with a CCD camera.

Since it is interactive operation on the touch panel,

it is easy and exact.
Abstract
MS7600 has six kinds of units. And the unit is located in order of the process of reworking. The process unit station of the machine has stored those units.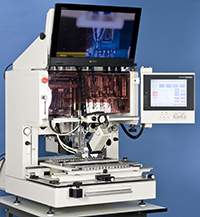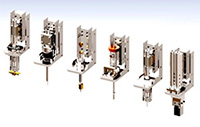 MS7600.............................................6 kinds of the unit.
There is a unit of No.1 in order to remove chip components, such as 0402. The unit of No.2 is for solder cleaning of the land on the board, No.3 of the unit is for solder dispenser, and No.4 is positioning unit, it is for the new parts. No.5 unit is for soldering of the new parts, such as 0402. And No.6 of unit is for CSP reworking.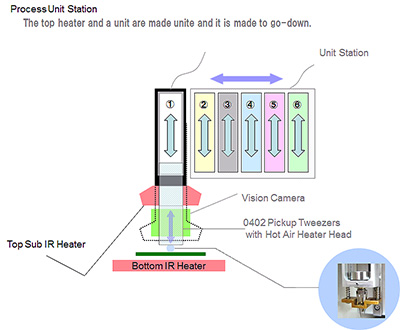 0402 Rework with No.1 to No.5 unit.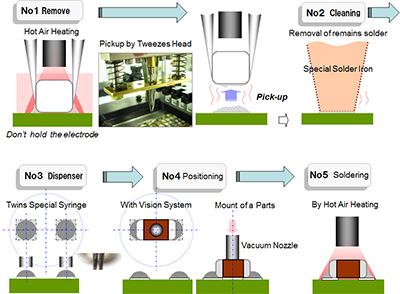 CSP Rework with No.6 unit and No.3,4.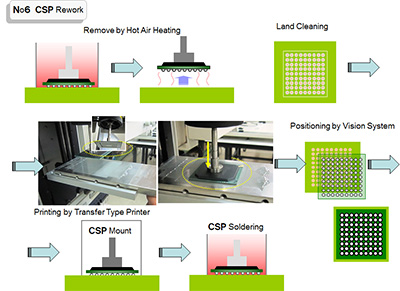 In the case of CSP Reworking, No.3 uses a transcribe-type printing tool instead of a dispenser.
The unit of No.6 is common to both removal and a re-mounting. (In reworking of CSP, only cleaning process is an external operation)
Auto-Profile
There is an ITTS Intelligence Thermal Trace System when reworking of CSP. The optimal temperature profile is automatically created by ITTS. Therefore, reworking is quickly exact in comfort.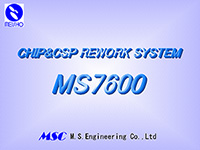 Starting Screen ................ITTS Screen
Solder Printing by Transcriber
This is the process of printing solder to CSP by TUN Solder Transcriber. It is no-need of the Metal Mask.








The CSP by which cream solder was transferred is mounted and heated.
N2 Gas Operation
N2 gas is very effective in soldering of a fine pitch components.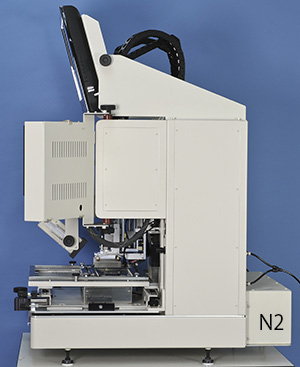 N2 Gas Generator
External size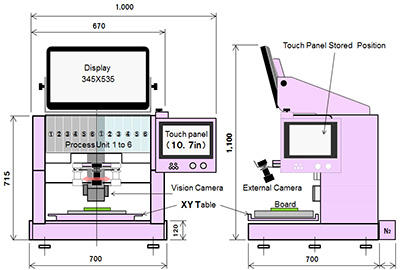 MS7600
M.S.Engineering Co.,Ltd.
1-38-15, Okusawa, Setagaya-Ku, Tokyo, 158-0083 Japan. Phone: +81-3-4283-3951 Fax: +81-3-3728-5232
Copyright(C)2007 M.S.Engineering Co.,Ltd. All rights Reserved.